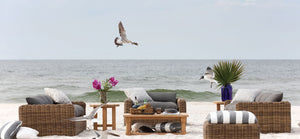 30A Beaches are known far and wide for its sugar-white sand and stunning Emerald Green waters!  Anyone who has been to the beach knows about the basic chair and umbrellas that are all over.   Terra Lifestyle Co® knows that some beachgoers just want more from the beach service companies but haven't found it yet.  Until now!
New for the 2021 season, Terra Lifestyle Co's® Retreat at the Beach is offering a beautiful daytime beach lounge package from Rosemary Beach to Dune Allen beaches.  
The package includes one, two or three couches, a coffee table and a side table.  
Large luxury umbrellas and rugs are also included by request. 
Be sure to ask about our Bonfire Packages that will only add more unforgettable memories to your time along the Emerald Coast!