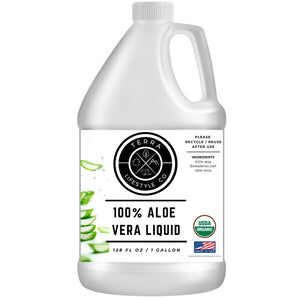 HEALS SKIN: If you are suffering from scrapes, scars, burns, skin rash, sunburn, dry skin, dandruff or cuts this soothing & cooling pure Aloe Vera gel is great for you. Aloe gel has the ability to quickly regenerate skin cells in the times that you need it the most. It brings you sunburn relief! SOFTENS SKIN: Aloe Vera is a plant with naturally moisturizing qualities that has been used for centuries to improve the skin's elasticity and overall texture so that it is soft & supple. Aloe vera juice has many health benefits.
ANTI-INFLAMMATORY: If you suffer from eczema, psoriasis, poison ivy or other types of skin rashes you should know that this Aloe Vera gel body lotion for women and men can prevent irritation, redness, and itchiness. It can be used as dandruff shampoo or conditioner. Perfect to use in psoriasis treatment, after bite treatment & razor bump treatment.
100% ALL ORGANIC : Aloe Vera is a plant of the succulent variety that grows all over the world. Due to its amazing rich medicinal and cosmetic qualities, it has been used for centuries. Our aloe vera gel 100 percent pure can be used for baby care., without any fragrance. Aloe vera gel for face is great as a gel moisturizer and scar gel!
100% USA MADE: All Premium Nature's products are proudly 100% made and manufactured in the USA. Our best products are made of the highest quality, alcohol free and are 100% customer satisfaction guaranteed